Giving back to the community is an essential part of the spiritual path. At Meditation Magazine, we plant hundreds of trees for each issue we publish, and have donated a significant portion of our profits to charities for women, children, and underserved communities.
We want to congratulate three amazing online Yoga companies that have made altruism central to their purpose as well. Read on to learn more about each company and how you can get involved.
Online companies have even more creative ways to give back and contribute to the collective good. One of these online yoga companies has planted nearly 300,000 food-producing trees. Another has used their mainstream success to contribute millions of dollars in donations to charity!
As conscious consumers, we vote with our dollars and we get to choose who and what we support with the money we spend. It feels good knowing that you are supporting a company that gives back.
Read on to learn more about how these three online Yoga companies give back through creative initiatives and how you can get involved.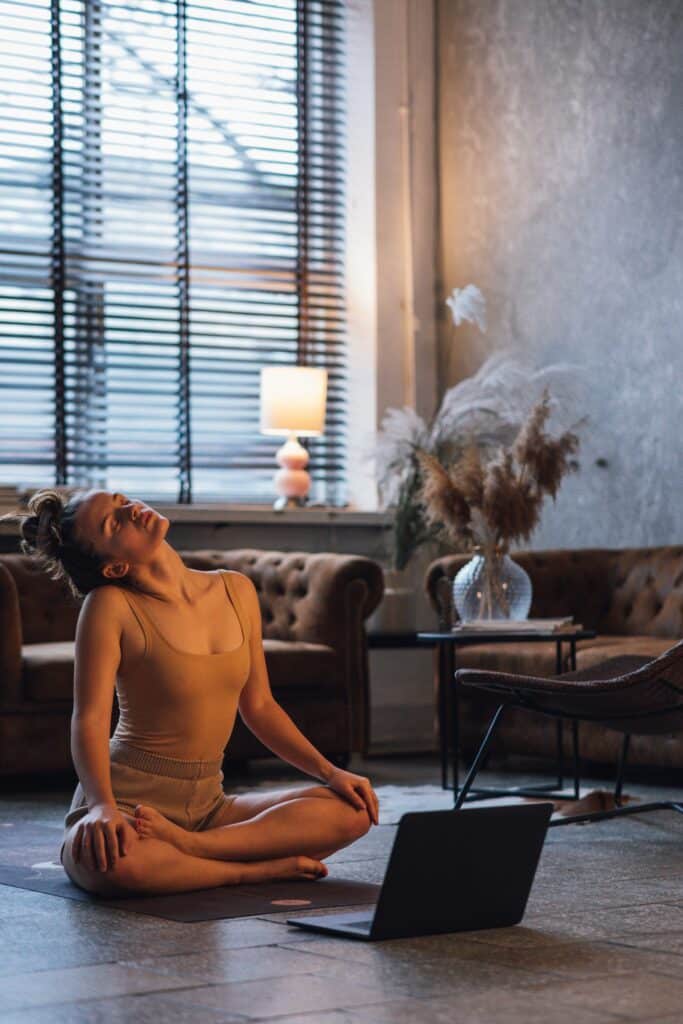 Here Are 3 Online Yoga Companies That Give Back:
Our friends over at YouAligned, formerly YogiApproved, are committed to helping you find mind, body and life wellness through their online classes and informative articles.
Every class a YouAligned member completes helps plant a food-producing tree for farming communities throughout Sub-Saharan Africa. So far, their members have planted nearly 300,000 trees! Not only is this tree planting initiative good for the environment; it is also directly benefiting the farming communities and their families by providing food and sustainable farming practices.
When you become a member of YouAligned classes, not only are you giving back, but you are supporting a small business that is female-founded and led. Taking classes on YouAligned is motivating! You can see how many trees you've planted, so you know you're doing something good for yourself, others, and the planet.
Learn more about YouAligned's plant a tree give back program here.
YouAligned has hundreds of online yoga classes, guided meditations, breathwork, fitness classes and wellness content to choose from. Plus with over 2,000 articles, YouAligned is a valuable resource for holistic wellbeing.
The cost is $16 per month or $160 for the year. Learn more about YouAligned Classes or sign up for their free two-week trial here.
2. Modo Yoga
An online and in-person studio, this online yoga company has given over $6 million in donations to local and global charities since they started in 2004! Modo Yoga is a hybrid virtual-physical community based in British Columbia but available everywhere online.
Their slogan is simple: Do Yoga. Do Good!
The way they have raised such an impressive amount of charitable donations is through their weekly in-person and virtual karma yoga classes. These karma classes may be attended by donation only, and 100% of the proceeds from each karma yoga class goes to a local or international charity.
Modo Yoga contributes to different types of charities and organizations. For example, they partner with an organization that protects the rainforests called Junglekeepers.
To reduce the carbon footprint of their physical yoga studios, they are all powered by renewable energy, making Modo another great reason to be on our list of top online yoga companies that give back. Bonus! This online yoga company also offers virtual yoga and meditation classes in Spanish, French, and English.
The cost is $19 per month or $199 for the year. Learn more about Modo Yoga and their give back initiatives or sign up for their two-week free trial here.
While the other online yoga companies on this list focus on providing yoga classes either online or in a studio, Yoga Gives Back unites practitioners from around the world with the important cause of empowering India's women and children.
Yoga Gives Back focuses on the key social issues that most impact India's female and child population. They have created programs to advance women's rights, educate India's youth, and provide scholarships for higher education and microloans for businesses.
According to their website, 300 million people now practice yoga worldwide, creating an $80 billion annual industry revenue. YGB says, "If a fraction of this can be redirected to empower the underserved women and children in India, we can effect a real change, especially at this challenging time."
There are five ways you can get involved with Yoga Gives Back: you can donate, volunteer, host a class, be a sponsor, or start an online fundraiser.
Learn more about Yoga Gives Back and how you can support this incredible cause here.
In a Sea of Online Yoga Options, Choose to Support Those With Impact
A by-product of a yoga practice is a greater sense of self-awareness and a commitment to be better – to ourselves, to others, and for the collective community. Through this deeper self-awareness, we realize that all things are interconnected, and that to evoke any kind of lasting change requires us to each do our part.
Change comes from – and starts from – within. So when we first focus on ourselves and invest in self-care, we recognize that this is where our power comes from. When we fill our cups, we are able to give our best to others and in everything that we do.
When we take care of ourselves, we are better able to show up for everyone else. Leading a conscious lifestyle is in part about being of service.
So how can we merge our commitment to self-care with our conscious lifestyle? It starts by supporting companies whose values align with your own. And in a sea of online yoga companies, the ones that stand apart from the rest are the ones who are doing their part to give back. When you choose to support these online yoga companies, their mission to give becomes an extension of yours. Together, we can create a lasting change.
Stepping onto your yoga mat is one of the most important forms of self-care that you can do. Stepping onto your yoga mat knowing that you're not just doing good for you, but for the collective too – this is when the practice steps off the mat with you into your life.