Meditation is known for its multiple benefits, such as increasing self-awareness, building skills to manage stress, and fostering physical health benefits, but running a meditation studio successfully requires the regular planning of any other business. It is essential to have a clear understanding of what your business goals are and have a strategy in mind to set your business up for success.
In the last ten years, the number of people practicing meditation has tripled in the US. Over 14% of adults have tried meditation at least once. Those who have practiced meditation within the last year have also practiced mindfulness, spiritual meditation, and mantras.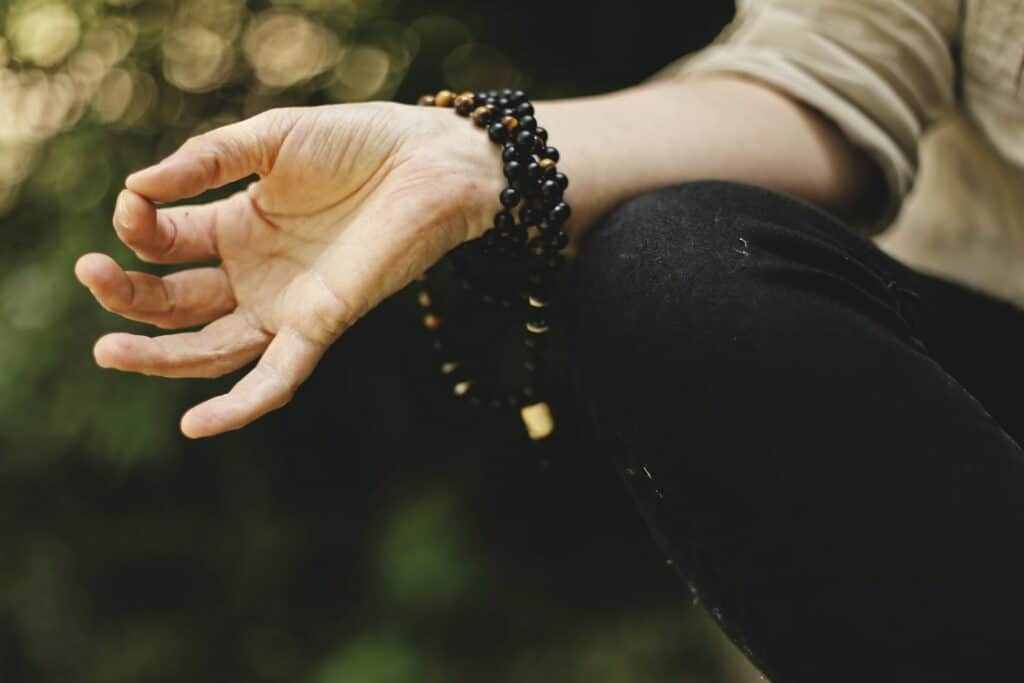 Certification required to teach meditation
Although there is not a specific certification or set of skills required for teaching meditation, there are some benefits acquired by having a meditation instructor certification. A certificate accredited by a recognized institution like the IMMA (International Meditation and Mindfulness Alliance) will give you and your business more reliability and credibility.
Meditation certifications come in various forms, in-person or online, some courses require more commitment than others, and some courses have prerequisite courses that aim to help you decide which specific meditation tradition you want to learn, and teach in the future, so you can pick the one that feels more aligned with your intentions.
Define the type of meditation you want to teach
The meditation technique you choose to teach will attract a different type of clientele to your meditation studio. Here are five of the most commonly practiced meditations worldwide, but there are plenty more that you can explore if you feel curious.
Mindfulness meditation is the most popular meditation in the western world, and it has its origins in Buddhist teachings. This practice combines concentration and awareness, and the goal is to pay attention to every thought that passes through your mind. You don't judge or get involved with the thoughts, you are just observing and noticing any patterns that appear.
Focused meditation is a practice where you concentrate using any of the five senses to focus on. It can be internal, like counting your breaths, or external, like counting mala beads, gazing at the moon, or staring at the flame of a candle. This is a great practice to sharpen attention and focus.
Visualization meditation focuses on visualizing positive figures, images, or scenes, aiming to induce feelings of relaxation, calmness, and peace. The practice involves imagining a scene using all five senses to include as much detail as possible. This meditation technique is often used to promote inner peace, boost mood, and reduce stress.
Movement meditation is an active form of meditation where movement guides you into a deeper connection with the present moment, whether it be the practice of yoga, walking, gardening, or tai chi. This type of meditation is great for people who want to develop body awareness, especially for those who find it challenging to stay still for long periods and have peace in action.
Mantra meditation is popular in Buddhist and Hindu traditions. This technique uses repetitive sounds intended to clear the mind. This can be a word, a phrase, or a sound, being one of the most popular chanting of the sound "Om."
The repetition of the mantra can be done loudly or quietly; this type of meditation makes it easier to concentrate for those who find it hard to focus on their breathing and easier to focus on the sound of a word.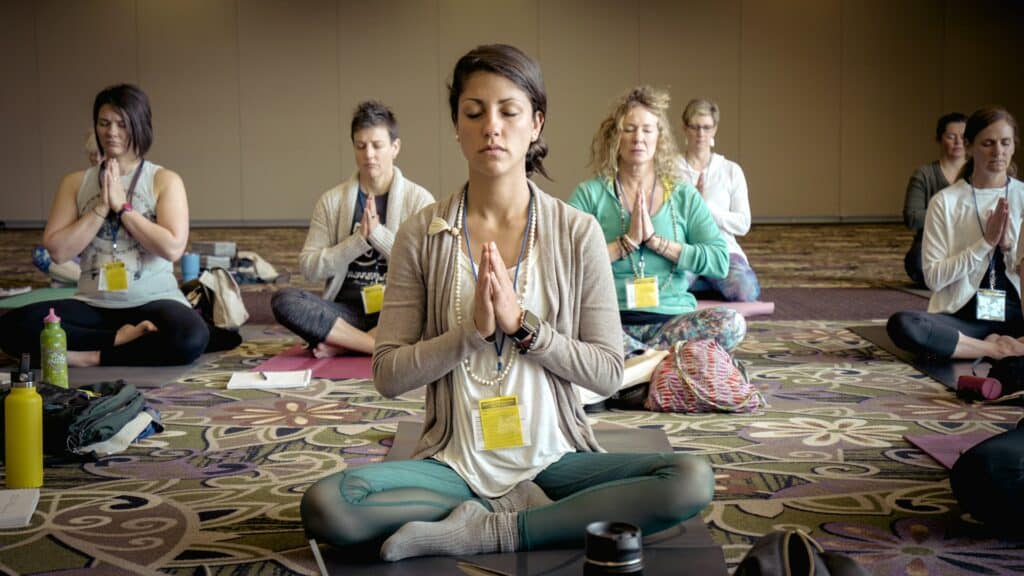 Create a business plan
Having a business plan for your meditation studio will help you have realistic and measurable goals while creating a foundation for your business. Have your intended goals in writing, with a simple outline with key elements like the time frame in which you are expecting to achieve them, is all you need to get started.
Decide a name and create a logo for your studio – Choose a business name that is easy to remember. It must be something simple but descriptive of the vibe of your business and what your company does. The logo must be a graphic representation of the name chosen for your studio. A clever logo combined with a great name will make your business look professional.
Competitor analysis – Having a detailed analysis of your competitors is of great help for new business owners. With this research, you will have a general idea of how other local meditation studios in your community market their services, what their pricing range is, and how they communicate and publicize their business. This will help you decide on the services you want to offer and make sure you set competitive prices.
Customer analysis – Analyzing your target audience will give you information on the demographics of your local market, like gender and age range, and get to know the needs of your target audience. It allows you to specify how your service will satisfy those needs.
Marketing plan and strategies – Defining a marketing plan and strategies will help you determine how to reach your target audience and get more clients. Marketing strategies can include print advertising, participation in community events, digital advertising, and social media campaigns.
Budgeting – Setting up a budget for your meditation studio will help you determine the areas where it is most important to spend your money ahead of time. It will also help you figure out the best ways to maximize your income.
Startup financial plan – There are some financial considerations you need to think about before opening your meditation studio. Once you set up your budget, it is important to think about how you will finance those expenses. The financial plan will allow you to draw the path of your business's financial success in the future.
Projections – Projections will help set realistic growth patterns over the first three, six, twelve months, and so forth. These are set based on prediction and goals. With this information, you will be able to plan what you will need to meet your goals.
Design, space, and infrastructure required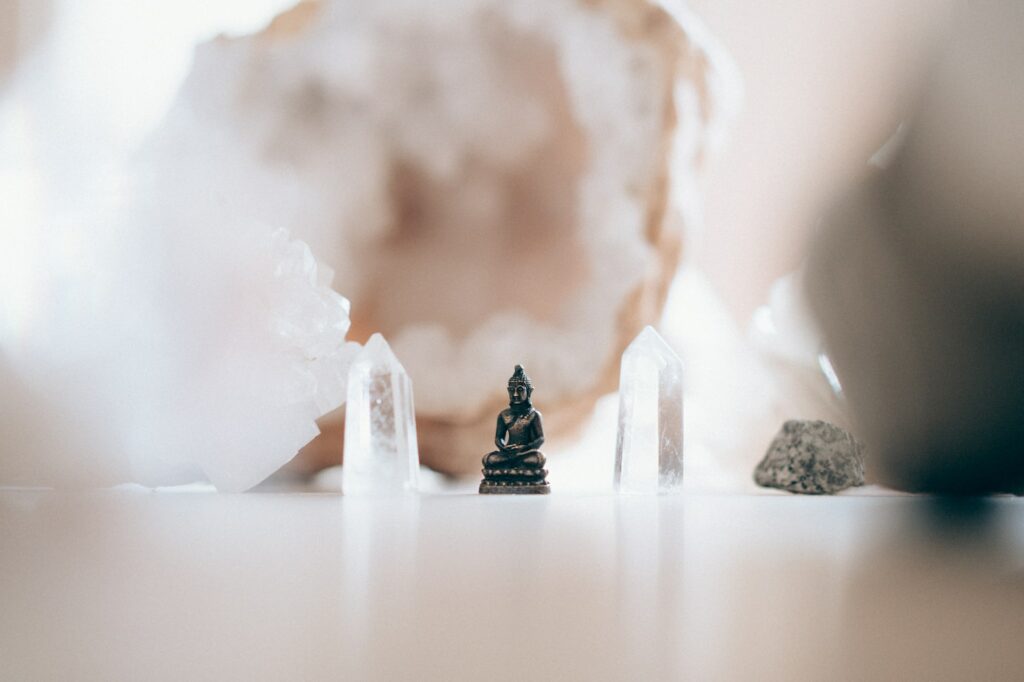 Decide on what you want your meditation studio to have for functionality and design. A meditation center will require a calming design and aesthetic, including decorative items promoting a zen environment. You can even think about hiring an interior designer to help create the vibe and look you need for your space.
The size of the space is an essential part of your meditation studio design process. Most meditation classes will require an ample open central area. This can be done in a living room, dining room, or roof terrace space, and you will need to adapt the space to carry out the meditation classes properly.
Consider the following basics to equip your meditation studio at home:
Flooring – Having hardwood or carpeted floor is a great choice to provide a comfortable space for sitting during a meditation session.
Lighting – The overhead lighting should be soft enough to provide a peaceful and relaxing environment but not too soft to the point that it promotes sleepiness in your students. Having a light dimmer switch in your meditation room is the best option that will allow you to regulate the level of intensity of the lights during your meditation sessions.
Audio – Depending on the type of meditation you plan to teach, music can play an important role during the session. Some people like to play calming music, while others prefer to have no background noise. If you choose to have your meditation sessions with music, you may want to install a couple of Bluetooth speakers and place them strategically around the room to create that calming effect.
Props – Meditation sessions will require you to have different props available for your students to sit comfortably during the class. You can have different props, like meditation chairs, zafus, and bolsters, to give your students options to choose what suits them best.
Storage and welcome area – Having a front desk to welcome students will make your studio look more polished and professional. Give your clients a designated area to leave their belongings and remove their shoes before entering the meditation room. In the welcome area, you can even create a small store to sell meditation items and gear.
Have a website for your meditation studio
Creating a website for your meditation studio will make your business more trustworthy and look more professional. A website will allow your students to check out the space before they attend a class, and it can be a great tool to host a calendar of activities or let them book classes online. A website will also allow you to direct your digital marketing efforts.
Optimize the website for mobile
Nowadays, most people have a smartphone in their pockets, and having a website optimized for mobile, will let your students check out your schedule of meditation classes, book classes online, or just check opening and closing times on their phones. Ensure your mobile version is clean and easy to use to avoid discouraging potential new students if they can't see everything on their phones.
Use a booking plugin or app
A booking plugin on your website will allow students to check out your class schedule and book online. Having an app they can download on their smartphones would make your students' lives easier if they could just open the app and register for a meditation class instead of calling the studio to book. Any of these options will make sure you're not losing any new students due to the lack of online options.
DIGITAL MARKETING STRATEGY
SEO Optimization – Optimizing your website for SEO can put your meditation studio at the top of the search results when somebody googles their nearby meditation options.

Google My Business and Google Maps – Use Google My Business and Maps to make sure people can easily find the location and main info of your meditation studio. You can even include information about your services, opening and closing times, and a link that directs people to your website and social media.

Ads on social media platforms – Depending on the audience you are trying to reach, if they are people who often use social media, a good idea may be to advertise your business there and reach the correct audience you are looking for to attend your studio.

Email marketing – Once you have built a community and have some captive clients, you can create a list of emails to start sending email marketing campaigns. You can use email marketing to promote new classes, inform people about events, sell merchandise, or promote referral incentives to help grow your business. Ensure your emails are well crafted, and do not send them too frequently to avoid overwhelming your students.

Social media – Use social media posts to keep your community up to date and engaged with your current schedules and activities. A lot of people nowadays turn to social media before they commit to the purchase of a service or product. Try to be consistent with how often you post to stay on the top of mind of your clients.
Get the proper insurance for the business
It is always recommended to have insurance covering any unforeseen events like a break-in or robbery or any damages that the studio may suffer due to diverse situations. Additional to that, having professional liability insurance, also called E and O insurance (errors and omissions), will protect the business in case a student makes a claim against the studio due to an accident or physical injury, the costs can start piling up if you don't have the proper insurance.
Focus on creating an exceptional customer experience
Keep a clean and tidy space that makes students feel comfortable at all times. Having a space that keeps them wanting to come back for more is essential for the success of your business. Check out the following tips to make sure you give your meditation students a top-notch experience:
Listen with an open mind – Listening to your customers with an open mind is crucial to maintaining a high customer experience. Even though it can be hard to hear negative feedback after putting so much effort into developing your business and brand, letting your students know you value their feedback and opinions will be greatly appreciated, even if you decide not to implement their suggestions.
Request feedback – Ask your customers to provide feedback on their experience by answering a survey, leaving a note in a suggestion box, or leaving online reviews. This can give you a realistic idea of the areas of your business where you need to improve. You will also get to know what your students love about your studio!
Additional strategies to get more customers and maximize your income
Think of additional strategies that will bring more students to your studio. Doing this will help you maximize your profits while giving a boost of exposure to your business.
These are a few ideas that can help:
Sell branded items like t-shirts with creative meditation themes, bolsters, mala beads, meditation books, etc.
Offer online meditation classes.
Offer to go on-site and provide meditation classes in wellness centers, schools, senior centers, or corporate offices.
Hire a few good yoga teachers and offer different types of yoga classes. The yoga business is big and can be a great addition to your meditation center.
Starting a meditation center at home can bring you great joy and reward when you see that you helped awaken inner peace and awareness in your students. With effort and dedication, you can turn your entrepreneurial dreams into a profitable reality.